Order your SmartSheets® (NAS50390) Here
SmartSheets (part number NAS50390) cling to most any hard, flat surface without the use of damaging tacks, tape, staples or glue!
SmartSheets® (NAS50390) are a dynamic alternative to conventional writing and display-sheets
They're your whiteboard, communication, brainstorming, artwork, doodlepad and advertising vehicle all rolled up in one!
They're light-weight, portable sheets that turn most any flat surface into an instant writing or display area.
They're environmentally friendly
Stay Organized – Tear-away sheets in a handy storage dispenser!
Using SmartSheets® (NAS50390) is as simple as pull – tear – place – smooth – write. The sheets detach as easily as they apply, and can be repositioned over and over again.
Each roll of SmartSheets® comes packaged in its own dispenser and is perforated to create up to 40 individual 60cm x 80cm (23.5" x 31.5") sheets of writing surface. The dispenser keeps the sheets clean and stores easily either sitting on a shelf, desk or window ledge or hanging from a wall mount.
The SmartSheets® dispenser is slim and lightweight for easy transport and has been crafted to work either independently or in conjunction with most easels, visual boards and wall mounts.
Completely portable and easy to use, SmartSheets® is a versatile presentation and recording tool for the business professional and individual alike.
Universal Appeal
SmartSheets® Presentation Sheets (item number NAS50390) work with dry erase and permanent markers. The choice of marker determines whether your notes are temporary and changeable or long-lasting and permanent.
For notes that can be wiped off and corrected, use dry erase markers. For long lasting notes that won't rub off, use permanent markers.
After use, SmartSheets® can be rolled and saved for future reference or left clinging to a clean, dry surface – for months!
Smart for the Environment!
When it is time to discard your SmartSheets®, do so in good conscience knowing that the sheet, the roll and the dispenser are all recyclable!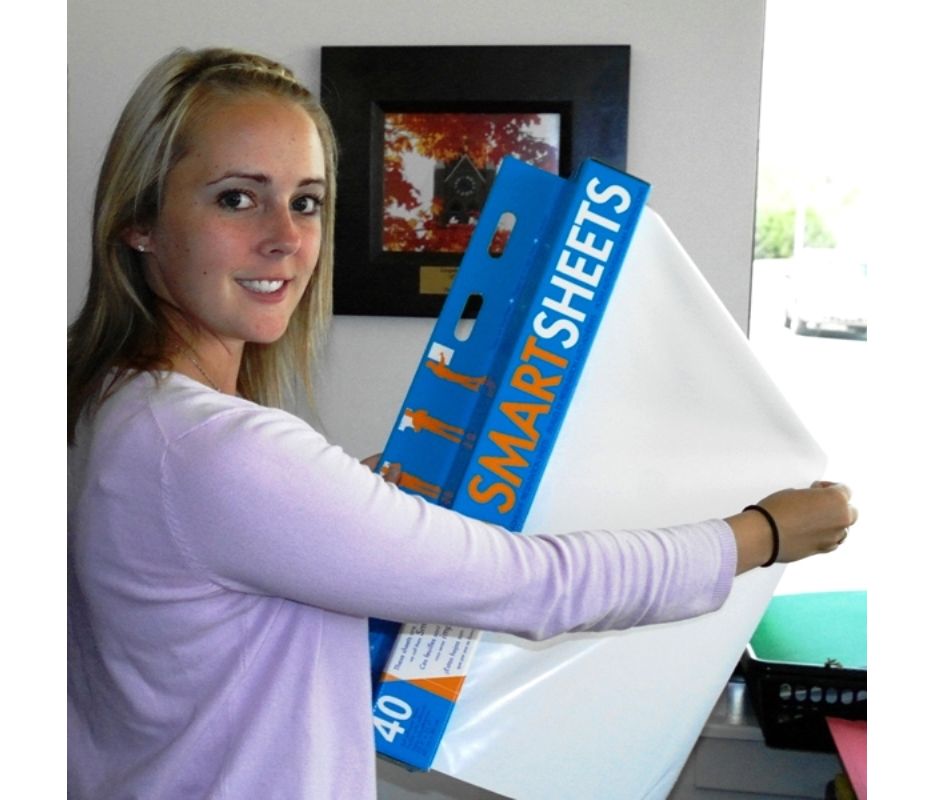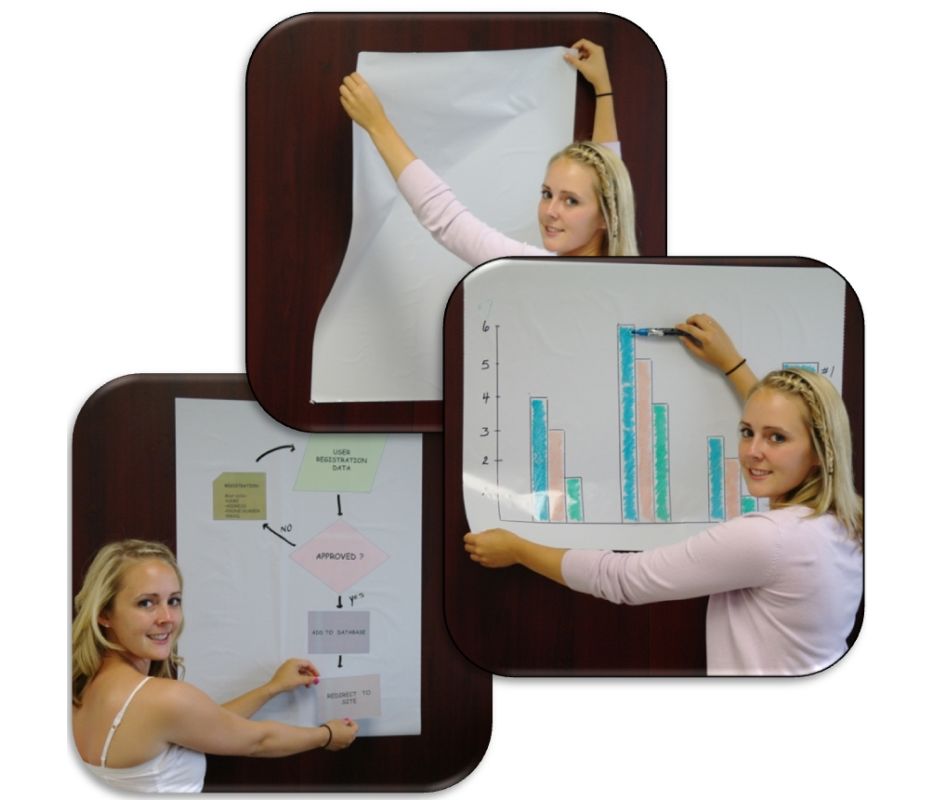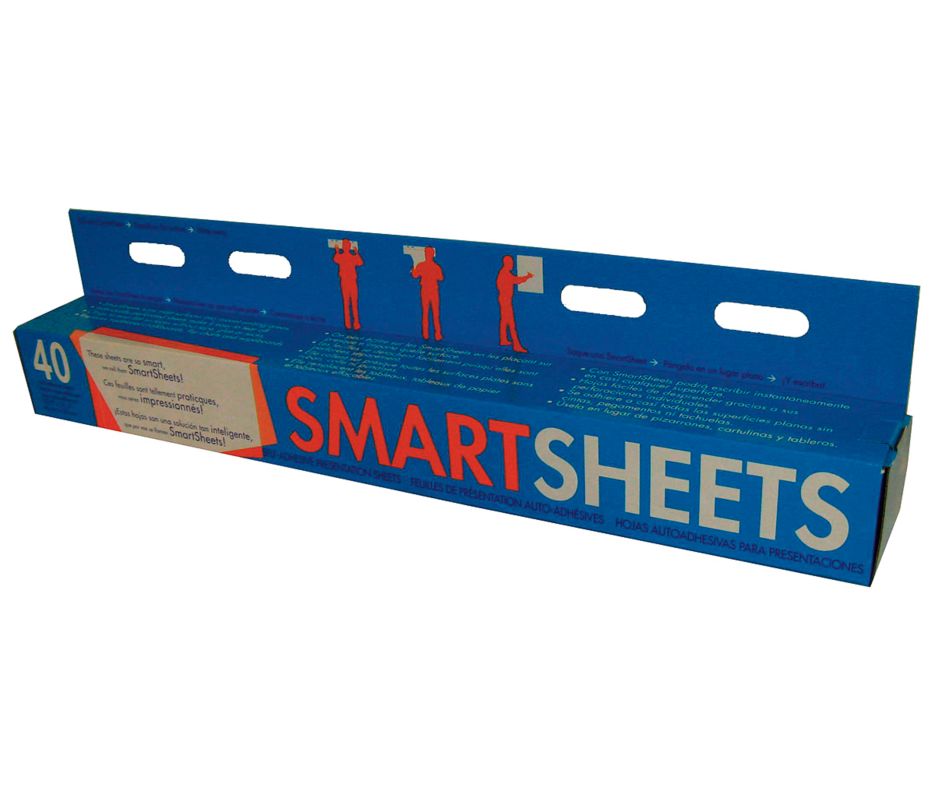 40 sheets per roll. 23.5″x31.25″ [Item # NAS50390] Please Note: We can only ship products to addresses within the USA FREE FREIGHT FOR 3 OR MORE ROLLS (Special product not in our catalog) Please Note: A shipping charge of $7.95 is added to the price when ordering 1 or 2 rolls.

Get specials on products and services delivered to your inbox
Sign Up Now!
I started with Integrity as my primary office supplier for a little over 5 years now, and have always been completely satisfied with their superior service and products.
The Salvation Army
Our salesperson's honest, low-pressure approach to our account prompted our switch from a "big box" company. He has remained steadfastly dedicated to our business, which in my experience is unique, as it is not uncommon for vendors to demonstrate a great deal of attention while trying to secure business, only to become less available after the agreement is signed.
Varnum Attorneys at Law
We have brought to life some very creative artwork together. Many times we have had critical deadlines-they have never failed us. Not only are they prompt, efficient, they are fun to work with!
Quality Edge
We purchase office supplies from Integrity but what we really enjoy is creating the perfect corporate or employee gifts. We simply give Integrity the concept and wait for them to bring it to life. We have exacting standards as does Integrity Business Solutions, it's a great match!
Huizenga Group
Product quality and pricing took us to a new level of savings. Integrity goes the extra mile with any of our ordering needs building a level of trust we can depend on.
Light Corporation
I've worked with Integrity for years and have never been disappointed. They are delightful to work with and are always willing to go the extra mile to make sure they have a satisfied customer!
Shape Corporation
Integrity Business Solutions has been integral to our business for more than 12 years. Integrity is best in class in providing customer service and always exceeding our expectations.
Metron
Awesome company to work with, their staff is very friendly and goes out of their way to help.
Experi-Metal Inc.
Our law firm has relied on Integrity for all of our office supply needs for several years now. Anytime I've ever had a special or rush request, they have bent over backwards to accommodate me, and I've never been disappointed. They are, hands down, the best office supply company I have ever worked with!
Shea Aiello, PLLC
Our orders are always sent the next business day, and if needed, the same day, with our Sales Person sometimes delivering it himself. That shows that he values his customers and wants to make sure they have what they need, when they need it.
Action Packaging LLC
Our salesperson stops by the APC offices monthly with current flyers and suggestions regarding sales items. Our salesperson is respectful of our time, not overbearing in any way, courteous, helpful, and responds immediately to inquiries or requests.
Anesthesia Practice Consultants
For many years now, Atlas EPS has depended on Integrity for their products and services. They have never let us down. I find them easy to work with. Delivery is accurate and timely.
Atlas EPS
Pricing is competitive, good customer service is a priority, they stand behind their products, and our salesperson's attention to maintaining a good working relationship is outstanding. I do not hesitate to recommend them as an office supply resource.
D.A. Blodgett-St. John's
Any time we have found ourselves in a pinch and in need of something really fast, we can send an email to our salesperson and without fail he'll go out of his way to come through for us.
Progressive AE, Inc.
If you are looking to save money, get excellent products, and have exceptional customer service, then you should look no further than Integrity Business Solutions for your office supply needs.
The Salvation Army Divisional Headquarters
Our salesperson is always available to answer questions, check prices, and make suggestions. He is honest and fair and will let me know if he cannot match/beat price. However, this does not happen often.
Senior Neighbors, Inc.
Integrity has offered measurable savings for Weller and has held pricing on most items for the entire time we have been with them. Overall, we are very happy with our decision to do business with Integrity, and I personally would recommend them without any reservations.
Weller Truck Parts
Integrity's multiple locations make it ideal for our five regional offices to be able to utilize their services. The staff is friendly and knowledgeable on the multiple products that Integrity offers. Returns have never been an issue, and, if needed, a replacement item is sent out for delivery the next day.
Fishbeck, Thompson, Carr & Huber, Inc.
Our sales representative makes us aware of sales and offers and keeps in touch with us to make sure our needs are being met. We chose Integrity because we wanted to keep our business local and they provide excellent service!
American Waste
Integrity Business Solutions always exceeds our expectations. No matter how large or small our order is we know we can count on them for all our office product needs.
Basic Online